Stainless Steel 430F
Specs: ASTM-A-582, QQ-S-764B
UNS#: S43020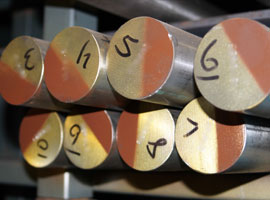 430F Stainless Steel is a free-machining version of 430 Stainless Steel. Primarily comprised of Chromium, small amounts of Manganese, Silicon, Carbon, Phosphorus, Sulfur, and Molybdenum can be found in its chemistry.
Most commonly used in solenoids, our 430F is certified as 'solenoid quality' and meets a wide variety of specifications.
This chromium-based stainless steel has many benefits, including good corrosion resistance, excellent formability, and high wear resistance.
Aside from solenoids, 430F Stainless Steel is used for valves, fasteners, surgical equipment, threaded bars, pins, hinges, and combustion chamber linings.
If you are looking for 430F stainless steel or any other alloy, Diversified Metals is your one-stop -shop. Contact us today for all your stainless steel needs. 

Get a quote for Stainless Steel 430F
As part of the Wieland Group since 2018, Wieland Diversified will be able to continue to provide its customers with the quality and service they have come to expect. Learn more at Wieland.com
Wieland Diversified
49 Main Street
PO Box 65
Monson, MA 01057
p (800) 628-3035
p (413) 267-5101
f  (413) 267-3151