Bronze CDA 86400
Specs: ASTM-B-584, MS-989, EMS-102.1
UNS# C86400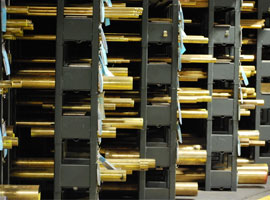 Leaded Manganese Bronze C86400 (Bronze CDA 86400), also known as Leaded High Strength Yellow Brass, is a cast Copper alloy that is made of Copper and Zinc, with Aluminum, Lead, Tin, Iron, Manganese and Nickel & Cobalt. This cast bronze is primarily used in roller bearing applications.
High Strength Yellow Brass C86400 (CuZn40Fe2AlMnPb) is an alpha-beta brass with additions of 2% Fe and 1% additions of aluminium, lead and manganese. The iron, aluminum, and manganese, provides additional strength and corrosion resistance, while the lead is added to increase the machinability.
The alloy has good wear resistance and is used for roller bearing cages where the properties of high strength, ductility, good fatigue, excellent bearing, and excellent machinability make it a popular choice.
When used as a shaft bearing, the shaft needs to harden.
Welding techniques for High Strength Yellow Brass are soldering and brazing. Carbon arc welding, oxyacetylene welding, gas-shielded arc, and coated metal arc welding are not recommended for this alloy.
C86400 has a machining index of 65% when compared with free machining brass at 100%.
The Bronze CDA 86400, offered by Wieland Diversified, is a testament to their commitment to manufacturing products of the highest quality. This alpha-beta brass alloy exhibits remarkable properties that make it a top choice among industries that need robust and reliable bronze components.
One of the distinctive advantages of using Bronze CDA 86400 is its superior wear resistance. This attribute is crucial in applications involving significant friction, such as roller-bearing cages.
By eliminating the rapid wear and tear common in such settings, this bronze alloy significantly extends the product life cycle, thereby enhancing operational efficiency and reducing maintenance costs.
Furthermore, the alloy's excellent bearing and fatigue properties, combined with its high strength and ductility, make it highly versatile.
These attributes allow CDA metals to be utilized in various applications, from construction and industrial equipment to automobile components. Therefore, this material offers a comprehensive solution for various industries.
As for machinability, high-strength yellow brass scores 65 percent on the machining index, making it a highly machinable material. This means that it can be easily shaped, cut, or drilled, making it a preferred choice for intricate and precise applications.
When purchasing bronze from Wieland Diversified, you receive more than just a high-quality product. Wieland Diversified prides itself on its customer-focused approach, ensuring an easy and efficient buying process. Our team of experts is always ready to assist, from answering queries about product specifications to providing guidance on the best alloy for your application.
Moreover, those of us at Wieland Diversified are known for our high transparency and integrity. We provide comprehensive product documentation, ensuring you are fully informed about the material's properties and potential applications. This commitment to customer education allows you to make well-informed decisions, maximizing your investment's value.
In addition, Wieland Diversified offers competitive pricing for Bronze CDA 86400, ensuring that you receive plenty of value for your money. This commitment to affordability, coupled with their exceptional product quality, makes Wieland Diversified an excellent choice for your bronze alloy needs.
Bronze CDA 86400 from Wieland Diversified offers outstanding performance due to its exceptional properties. Combined with the company's commitment to customer satisfaction, purchasing this alloy from Wieland Diversified is a strategic investment that can significantly enhance the quality and efficiency of your operations.
Get a quote for Bronze CDA 86400
Available shapes –  round and sleeve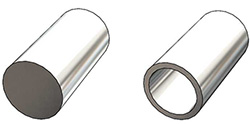 Roller Bearing Cages
Bearing Cages
Cams
Lever Arms
Valve Stems
Propellers
Pump Fixtures
Architectural Rails and Fixtures
Specifications
Specifications of Bronze CDA 86400
International
Standards
Material
Designation
Rod, Bar
& Profile
USA
ASTM
UNS C86400
ASTM B 584
ASTM B 271
SAE
 
SAE J463
SAE J461
Federal
 
QQ B 390-B
Mechanical Properties
Mechanical Properties of Bronze CDA 86400
Product Form
Condition
Size
Imperial Metric
UTS
Ksi    N/mm²
0.5% Yield
Ksi    N/mm²
Elong
%
Hardness
RB
Rod & Bar
As Manufactured
N/A
60-80   413-551
25-35   172-241
25-30
50-70
Physical Properties
Physical Properties of Bronze CDA 86400
| Physical Properties | Imperial Units | Metric Units |
| --- | --- | --- |
| Density | 0.301lb/in³ | 8.32g/cm³ |
| Melting Range | 1580-1620ºF | 860-880ºc |
| Mean Liner Expansion 20-300ºc |   | 0.020 ºc x10-³ |
| Mean Liner Expansion 68-572 ºF | 0.00111 ºF x10-³ |   |
| Specific Heat | 0.090Btu/lb/ ºF @68ºF | 377J/kg ºK @20 ºc |
| Thermal Conductivity | 611BTUin/ hr- ft² ºF @68ºF | 88W/m. ºK |
| Electrical Conductivity | 18% IACS @68ºF | 0.070MS/cm @20 ºc |
| Magnetic Permeability | <1.01 |   |
| Electrical Resistivity | 4.37µ_in | 11.1μΩcm |
| Modulus of Elasticity 10³ |   |   |
| Tension | 21.8ksi | 150N/mm² |
| Compressive | 8.7ksi | 60N/mm² |
While the data is believed to be accurate, Wieland Diversified makes no representation or warranty of any kind (expressed or implied) and assumes no responsibility with respect to the accuracy and values shown above; this information should only be used as a guide.
As part of the Wieland Group since 2018, Wieland Diversified will be able to continue to provide its customers with the quality and service they have come to expect. Learn more at Wieland.com
Wieland Diversified
49 Main Street
PO Box 65
Monson, MA 01057
p (800) 628-3035
p (413) 267-5101
f  (413) 267-3151