Aluminum Bronze C63200
Specs: QQ-C-465 ASTM-B-150 ASTM-B-124 MIL-B-24059
UNS# C63200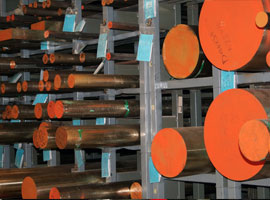 C63200 Nickel Aluminum Bronze ASTM B150 is predominantly a Copper alloy (78-82%) with Aluminum, Nickel, Iron, and Manganese. It is a heat-treated alloy that is a strong, corrosion-resistant material that performs well at high and low temperatures, C63200 also has a low magnetic permeability making it ideal for instrumentation systems.
Commonly used in naval sea applications of commercial and military variety. C63200 is used in valve assemblies, stems & seats, pump shafts & sleeves, and various components in marine, aerospace, and oil patch industries.
Aluminum Nickel Bronze (CuAl9Fe4Ni4) C63200 is an American Naval alloy with improved corrosion resistance. When the alloy was first produced as a casting, it was found that occasionally the alloy suffered selective corrosion of the kappa phase.
The new wrought alloy has a quench and temper heat treatment which eliminated this problem introducing a structure that changed the morphology of the kappa phase.
The alloy has a proven history within Naval applications where it is used extensively in the building of Nuclear submarines and other Naval surface craft.
C63200 can be joined by using MIG or TIG welding techniques.
In addition, the alloy has excellent wear resistance and good corrosion resistance in fresh and seawater.
It is non-sparking which is important in explosive environments, relating to weapon handling, petrochemical industries, and the mining industry.
It has also good erosion/corrosion properties, which find applications for marine propulsion units such as propellers.
Available shapes – round, hex, rectangular and square

Marine
Weapons Handling Equipment
Naval Marine Craft
Drive Shafts
Main Bearings
Sonar Equipment
Propellers
Sea Water Valves
Pump Bodies
Fasteners Nuts And Bolts
Hydraulic Valve Bodies
Desalination Plants for Valves
Sea Water Pipe and Pumping Systems
Industrial
Mining Equipment For Non-Sparking
Applications
Valves and Valve Stems
Sleeve Bearings
Fasteners
Get a quote for Aluminum Bronze C63200
Specifications
Specifications of Aluminum Bronze C63200
International
Standards
Material
Designation
Sheet & Plate
Rod & Bar
Forgings
Stampings
USA
ASTM
UNS C63200
 ASTM B171
ASTM B 150
ASTM B 124
ASTM B 283
ASME
 
ASME SB 171
ASME SB 150
ASME SB 283
AWS A5.7
Class ER CuNiAl
Welding C63280
 
 
 
Mil E 23765/3
Welding C63280
 
 
 
Mil B 24059 (3)
 
 
 
 
QQ-C-00465
 
 
 
 
ISO
ISO 428:1983
CuAl9Fe4Ni4
 
 
 
Mechanical Properties
Mechanical Properties of Aluminum Bronze C63200
Product Form
Condition
UTS
N/mm²   Ksi
0.5% Yield
N/mm²   Ksi
Elong
%
Hardness
HB
Rod & Bar
TQ50 Up to3"(76.2mm)
648-792    94-115
345-496   50-72
15-25
190-230
Rod & Bar
TQ 50 >3"-5" (>76.2-127mm)
648-792   94-115
310-400   45-58
15-30
190-230
Rod & Bar
TQ 50 >5"-12" (>127-305mm)
634-751   92-109
276-379   40-55
15-25
180-210
Plate
<= 2" (<=50mm)
620-700   90-102
250-300   36-44
10-15
160-200
Plate
2"- 3.5" (50mm-88.9mm)
585-620   85-90
230-270   33-39
10-15
140-160
Plate
>3.5"-5.0" (>88.9mm-127mm)
550-580   80-84
205-230   30-33
10-15
130-140
Composition
Composition of Aluminum Bronze C63200
| Element | Cu | Al | Fe | Ni | Mn |
| --- | --- | --- | --- | --- | --- |
| Composition | 78.00 min | 9.25 | 3.75 | 4.5 | 1.3 |
Physical Properties
Physical Properties of Aluminum Bronze C63200
| Physical Properties | Imperial Units | Metric Units |
| --- | --- | --- |
| Density | 0.276 lb/in³ | 7.64g/cm³ |
| Melting Range | 1900-1950ºF | 1041-1060ºc |
| Mean Liner Expansion 0-200ºc |   | 16.2μm/m.ºc |
| Mean Liner Expansion 0-400 ºF | 0.0095 in/in/ ºF x10³ |   |
| Specific Heat | 0.105Btu/lb/ ºF | 440J/kg ºK |
| Relative Magnetic Permeability | 1.35 |   |
| Thermal Conductivity | 20Btu/ft h/ ºF | 34W/m. ºK |
| Electrical Resistivity | 148ohm-circmil/ft | 24.6 µ_-cm @20°c |
| Electrical Conductivity | 7% IACS | 0.041 MS/cm @20°c |
| Modulus of Elasticity 10³ | 17ksi | 117N/mm² |
| Modulus of Rigidity | 6.4ksi | 44.13N/mm² |
As part of the Wieland Group since 2018, Wieland Diversified will be able to continue to provide its customers with the quality and service they have come to expect. Learn more at Wieland.com
Wieland Diversified
49 Main Street
PO Box 65
Monson, MA 01057
p (800) 628-3035
p (413) 267-5101
f  (413) 267-3151