Stainless Steel 418
Specs: AMS 5616
UNS#: S41800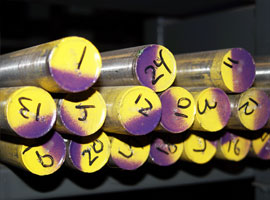 Stainless Steel 418, known as Greek Ascoloy, is a hardenable Chromium-Nickel-Tungsten martensitic stainless, intended for applications with service temperatures up to 1200°F.
418 Stainless has good resistance to scaling and oxidation at temperatures up to 1400°F. It resists atmospheric corrosion, weak organic acids, and oxidizing acids. It has the best corrosion resistance in the hardened and tempered condition.
Typically, Stainless 418 is used in such applications as steam turbine buckets and blades as well as compressor parts in gas turbines and high-temperature bolts.
Available shapes – round and square

Get a quote for Stainless Steel 418
As part of the Wieland Group since 2018, Wieland Diversified will be able to continue to provide its customers with the quality and service they have come to expect. Learn more at Wieland.com
Wieland Diversified
49 Main Street
PO Box 65
Monson, MA 01057
p (800) 628-3035
p (413) 267-5101
f  (413) 267-3151