Nickel 718 – Corrosion-resistant Alloy
Specs: AMS 5662 Capable of AMS 5663
UNS# NO7718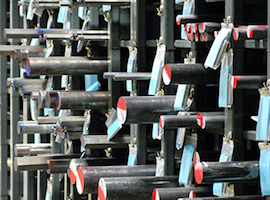 Nickel 718 possesses a combination of exceptional mechanical properties, workability, and weldability. These properties, combined with the high-strength and corrosion resistance found in other Nickel-Chromium alloys, make this grade of Inconel 718 prevalent in many industries from aerospace sheeting and cryogenic applications to fasteners and intricate parts used in instrumentation assemblies.
Nickel alloy is known for its excellent strength and ductility at elevated temperatures. It offers an outstanding combination of fatigue and rupture properties, allowing it to work well in high-temperature settings. Also, Nickel 718 maintains its performance even when subject to extremely corrosive environments, such as those in saltwater applications.
Many nickel manufacturers make custom-made shapes and parts with Inconel 718 alloy. Nickel 718 can work well in various applications, including manufacturing industrial components for aerospace engines and turbines, shafts for nuclear reactors, fasteners for chemical plants, structures used in the construction industry, and food processing equipment.
Available shapes –  round 

Get a quote for Nickel 718
As part of the Wieland Group since 2018, Wieland Diversified will be able to continue to provide its customers with the quality and service they have come to expect. Learn more at Wieland.com
Wieland Diversified
49 Main Street
PO Box 65
Monson, MA 01057
p (800) 628-3035
p (413) 267-5101
f  (413) 267-3151