C51000 Bronze
Specs: ASTM-B-139, AMS 4625, QQ-B-750
UNS# C51000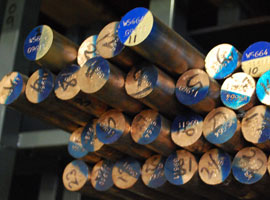 The term "bronze" broadly refers to Copper alloys in which the major alloying element is neither Zinc (which forms brass) nor Nickel (which forms Copper- Nickel).
C51000 Bronze (CuSn5) is a Tin Bronze that contains Copper, Tin, and Phosphorous. The Tin increases corrosion resistance and strength, while the Phosphorous increases wear resistance and stiffness.
Phosphor Bronze alloys are best known for their elastic properties and are often used for spring-loaded electrical contacts, various electrical connectors, sleeve bushings, clutch discs, and fasteners. C51000 Bronze brazes and solders extremely well and has excellent cold working capacity.
Phosphor Bronze C51000 (CuSn5) is a tin bronze with the addition of 5% tin and 0.2% phosphorus for deoxidation. The tin increases the strength of the alloy and gives good corrosion resistance in marine environments.
C51000 is one of the most widely used phosphor bronzes, owing to its unique combination of properties.
The alloy offers an optimized combination of engineering properties, such as high strength and ductility, excellent fatigue and spring characteristics coupled with good corrosion resistance. It has excellent bearing properties with a low coefficient of friction and high wear resistance.
In addition, it has good cold-forming properties and spring properties with excellent resistance to stress relaxation.
The alloy has an adequate electrical and thermal property, which helps it find applications in current-carrying and heat transfer applications.
C51000 has superb cold working characteristics, which enables the alloy to be supplied in the half-hard, fully hard, spring, and extra spring conditions.
It can be joined by soldering, brazing, and considered good to be joined by carbon arc welding or gas shielded arc welding; it has a machinability rating of 20% compared with free machining brass at 100%.

Architecture
Electrical
Terminals
Contacts
Switch Parts
Electromechanical Spring Components
Resistance Wire
Electrical Flexing Contact Blades
Electrical Connectors
Electronic Connectors
Wire Brushes
Electronic and Precision Instrument Parts
Fuse Clips
Terminal Brackets
Fasteners
Lock Washers
Fasteners
Cotter Pins
Industrial
Bellows
Textile Machinery
Perforated Sheets
Chemical Hardware
Truss Wire
Mechanical Springs
Sleeve Bushings
Diaphragms
Clutch Disks
Bourdon Tubes
Beater Bar
Welding Rods
Pressure Responsive Elements
Sprinkler Parts
Textile Machinery Parts
Get a quote for C51000 Bronze
Specifications
Specifications of Phosphor Bronze 51000
International
Standards
Material
Designation
Tube & Pipe
Welded & Seamless
Sheet & Plate
Strip
Rod, Bar
& Profile
Wire
USA
ASTM
UNS
C751000
 
ASTM B 100
ASTM B 103
ASTM B 103
ASTM B 139
ASTM B 159
AMS
 
AMS 4625
AMS 4510
 
AMS4625
 
SAE
CA510
 
 
 
SAE J461
SAE J463
 
Federal
 
MIL T 3595
 
 
 
MIL W 6712
Europe
EN
CW 451K
 
EN 1652
EN 1652
EN 1654
EN 13145
EN 14436
EN 12163
EN 12166
UK
British Standard
Military
PB 102
 
BS 2870
BS 2875
BS 2870
BS 2874
Def Stan 02 838
BS 2873
France
NF A
CuSn4P
 
NF A 51-108
 
 
 
Japan
JIS
C2105
 
JIS H 3110
JIS H 3110
JIS 3270
JIS 3270
Australia
AS
518
 
AS 1566
AS 1566
AS/NZS 1567
AS/NZS 1573
Czech Republic
CSN ISO 427
 
 
 
CSN ISO 1634-1
CSN ISO 1634-3
CSN ISO 1637
CSN ISO 1638
International
ISO
CuSn5
 
 
ISO 1634-1
ISO 1634-3
ISO 1637
ISO 1638
Mechanical Properties
Mechanical Properties of Phosphor Bronze 51000
Product Form
Condition
Size
Imperial metric
UTS
Ksi    N/mm²
0.5% Yield
Ksi    N/mm²
Elong
%
Rod & Bar
H04 Hard
<=0.25" (<=6mm)
80-128   550-880
NA    NA
NA
 
 
0.25-0.5" (6-12mm)
70-80   485-550
 
13-20
 
 
>0.5-1.0" (>12-25mm)
60-70   415-485
 
15-22
 
 
>1" (>25mm)
55-65   380-448
 
18-25
Physical Properties
Physical Properties of Phosphor Bronze 51000
Physical Properties
Imperial Units
Physical Metric Units
Density
0.320 lb/in³
8.86g/cm³
Melting Range
1750-1920ºF
950- 1050ºc
Mean Liner Expansion
20-300ºc
 
0.0178 ºc x10-³
Mean Liner Expansion
68-572 ºF
0.00099 ºF x10-³
 
Specific Heat
0.0908Btu/lb/ ºF @68ºF
377J/kg ºK @20 ºc
Thermal Conductivity
40Btuft² /hr-ft ºF @68ºF
69W/m. ºK
Electrical Conductivity
20% IACS @68ºF
0.088MS/cm@20 ºc
Magnetic Permeability
<1.01
 
Electrical Resistivity
4.53µ_in
11.5 μΩcm
Modulus of Elasticity 10³
 
 
Tension
16ksi
110N/mm²
Rigidity
6ksi
41.370 N/mm²
While the data is believed to be accurate, Wieland Diversified makes no representation or warranty of any kind (expressed or implied) and assumes no responsibility with respect to the accuracy and values shown above; this information should only be used as a guide.
As part of the Wieland Group since 2018, Wieland Diversified will be able to continue to provide its customers with the quality and service they have come to expect. Learn more at Wieland.com
Wieland Diversified
49 Main Street
PO Box 65
Monson, MA 01057
p (800) 628-3035
p (413) 267-5101
f  (413) 267-3151