Stainless Steel 304 Condition A
Specs: QQ-S-763, ASTM-A-276
UNS#: S30400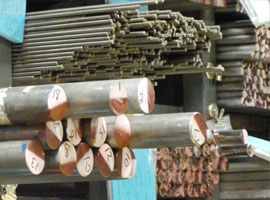 304 Stainless is one of the most widely used grades of Stainless Steel. An Austenitic Steel, generally composed of Chromium, Nickel, and Manganese, it is nonmagnetic and has excellent corrosion resistance, but is susceptible to stress-corrosion cracking.
Unlike 304 Stainless Condition B, Condition A is an annealed material generally preferred for resistance to most severely corrosive media, and generally more resistant than other types of Stainless Steel. Stainless 304 is non-heat-treatable.
It is commonly used in the aerospace, petrochemical, oil patch, automotive, and marine defense industries.
Available shapes – round, hex and square

Get a quote for Stainless Steel 304 Condition A
*Available only as a specialty order
As part of the Wieland Group since 2018, Wieland Diversified will be able to continue to provide its customers with the quality and service they have come to expect. Learn more at Wieland.com
Wieland Diversified
49 Main Street
PO Box 65
Monson, MA 01057
p (800) 628-3035
p (413) 267-5101
f  (413) 267-3151