C71500 Copper Nickel
Specs: MIL-C-15726 MIL-T-15005 ASTM-B-151 MIL-C-24679
UNS# C71500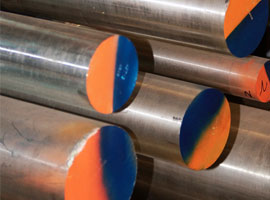 C71500 Copper Nickel, also known as 70/30 Copper Nickel, offers excellent corrosion resistance, especially in marine saltwater environments. The main wrought Copper Nickel alloys chosen for sea water service contain 10% or 30% Nickel. They also have important additions of Iron and Manganese which are necessary to maintain good corrosion resistance.
Some common applications for Copper Nickel include valves, pump components, fittings, flanges, and various other marine hardware components.
Copper Nickel C71500 (CuNi30MnFe1) is a copper nickel alloy with limited additions of manganese and iron to increase the strength. Copper Nickel 70/30 is also insensitive to stress corrosion.
Although this alloy was already known by the Chinese in the 9th Century, it did not become popular until the 1920's when it was developed for naval applications in seawater condenser systems.
The addition of iron helps grain refining and increases the erosion resistance with flowing seawater.
It retains its strength well at moderately elevated temperatures, has good cold and hot working properties, and is easily weldable.
The alloy is now used in a wide spectrum of applications, ranging from piping for seawater, cladding for offshore platforms and underwater cages for fish farming.
Being high in copper Copper Nickel 70/30 has anti-bio-fouling properties in seawater, and more recently, has been proven to have anti-microbial applications in hospital environments to combat the spread of viral bacteria.
Available shapes –  round, rectangular, and sleeve

Chemical and Marine
Tube and Tube Plates For Heavy Duty Water Condensers
Heat Exchanges
Desalination Plants
Feed Water Heaters and Evaporators in Power Stations
Sugar Refining Plants
Condenser Systems
Fish Cages
Cooling-Water Circuits and Sanitary Services on-board Ship
Fire Sprinkler Systems for Ships
Hydraulic And Pneumatic Piping
Under Water Sheathing
Ship Building
Oil Well Pump Liners
Salt Water Pumps and Piping for Submarines and Naval Surface Ships
Bourdon Tubes
Hydraulic Fluid Pipes Operating Under Corrosive Environments
Wave and Tidal Energy Generation Equipment
Mechanical
Get a quote for Copper Nickel C71500 
Specifications
Specifications Copper Nickel C71500
International
Standards
Material
Designation
Tube & Pipe
Welded & Seamless
Sheet & Plate
Strip
Rod, Bar
& Profile
Wire
Forgings
USA
ASTM
UNS
C71500
C71520
ASTM B 111
ASTM B 359
ASTM B 395
ASTM B 466
ASTM B 467
ASTM B 543
ASTM B 552
ASTM B 608
ASTM B 956
ASTM B 122
ASTM B 171
ASTM B 122
ASTM B 151
ASTM B 124
ASTM B 122
 
ASTM B 283
ASME
 
 
 
 
ASME SB 151
 
 
AMS
 
 
 
 
 
 
 
SAE
 
 
 
 
SAE J461
SAE J463
 
 
Military
 
 
 
 
MIL-C-15726
MIL-T-15005
MIL-C-24679
 
 
Europe
EN 12451
CuNi30Mn1Fe
CW 354H
 
EN 1652
EN 1653
EN 1652
EN 12163
EN 12164
 
EN 12165
EN 12420
Germany
DIN 17664
CuNi30Mn1Fe
2.0882
DIN 17671-1
DIN 17679
DIN 1785
DIN 17670-1
DIN 17675-1
DIN 17670-1
DIN 17672-1
 
 
UK
British Standard
Military
CN 107
BS 2871-2
BS 2871-3
BS 2870
BS 2875
BS 2870
BS 2872
BS 2874
Def Stan 02 780
 
Def Stan 02 780
France
NF A 51-115
NF A 51-112
CuNi30FeMn
CuNi30Mn1Fe
NF A 51-102
NF A 51-115
NFA 51-112
NFA 51-112
GAM MM11
 
 
Japan
JIS H 3320
C7150
JIS H 3300
JIS H 3320
JIS H 3100
 
 
 
 
Russia
GOST 00492
MNZMc30-1-1
 
 
 
 
 
 
China
BFe30-1-1
 
 
 
 
 
 
Australia
AS 2738-2
715
AS 1569
AS 1572
 
 
 
AS/NZS 1573
 
International
ISO 429
CuNi30Mn1Fe
ISO 1635
ISO 1635-2
ISO 1534-2
ISO 1534-1
ISO 1637
 
 
Registered with the USA EPA as an Antimicrobial Alloy.
Mechanical Properties
Mechanical Properties of Copper Nickel C71500
Product Form
Condition
Size
Imperial metric
UTS
Ksi   N/mm²
0.5% Yield
Ksi   N/mm²
Elong
%
Rod & Bar
ASTM B 151
060 soft anneal
<=0.5" (<=12mm) >0.5-1" (>12-25.4mm)
>1" (>25.4mm)
52-60   358-414
48-58   331-400
45-52   310-358
18-26   124-179
18-24   124-165
18-22   124-152
30-45
30-42
30-40
Physical Properties
Physical Properties Copper Nickel C71500
Physical Properties
Imperial Units
Physical Metric Units
Density
0.323 lb/in³
8.94g/cm³
Melting Range
2260-2140ºF
1170-1240ºc
Hot Working Range
1695-1875 ºF
925- 1025 ºc
Mean Liner Expansion
20-300ºc
 
0.0162 ºc x10-³
Mean Liner Expansion
68-572 ºF
0.009 ºF x10-³
 
Specific Heat
0.090Btu/lb/ ºF @68ºF
377J/kg ºK @20 ºc
Thermal Conductivity
17Btu /ft²/fth ºF @68ºF
29W/m. ºK
Electrical Conductivity
5% IACS @68ºF
0.029MS/cm@20 ºc
Electrical Resistivity
14.72µΩin
37.4 μΩcm
Modulus of Elasticity 10³
 
 
Tension
22ksi
152N/mm²
Rigidity
8.3ksi
57. N/mm²
While the data is believed to be accurate, Wieland Diversified makes no representation or warranty of any kind (expressed or implied) and assumes no responsibility with respect to the accuracy and values shown above; this information should only be used as a guide.
As part of the Wieland Group since 2018, Wieland Diversified will be able to continue to provide its customers with the quality and service they have come to expect. Learn more at Wieland.com
Wieland Diversified
49 Main Street
PO Box 65
Monson, MA 01057
p (800) 628-3035
p (413) 267-5101
f  (413) 267-3151