Hastelloy X
Specs: AMS 5754, MIL-I-45208A
UNS# N06002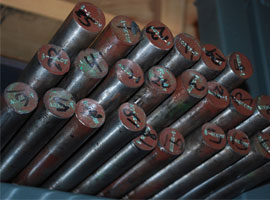 Hastelloy X metal is a Nickel-based alloy containing 47.5% Nickel, 22% Chromium, and 18.5% Iron, with small amounts of Cobalt, Molybdenum and Tungsten.
This Hastelloy alloy is corrosion and heat-resistant alloy is typically used for such parts as turbine rotors, shafts, flanges, blades, and bolts, requiring oxidation resistance up to 2200°F and relatively high strength about 1500°F. If you need a strong metal for these applications, use Hastelloy X.
One of the main functions of Hastelloy X is to endure effectively under high-temperature, high-stress applications in a moderately to severely corrosive, and/or erosion-prone environment where more common and less expensive iron-based alloys would fail. Although it is a superalloy, Hastelloy X does experience degradation due to fabricating and handling. Electropolishing or passivation of Hastelloy X can improve corrosion resistance.
Available shapes –  round 

Get a quote for Hastelloy X
As part of the Wieland Group since 2018, Wieland Diversified will be able to continue to provide its customers with the quality and service they have come to expect. Learn more at Wieland.com
Wieland Diversified
49 Main Street
PO Box 65
Monson, MA 01057
p (800) 628-3035
p (413) 267-5101
f  (413) 267-3151