Stainless Steel 15-5
Specs: ASTM-A-564, AMS 5659
UNS#: S15500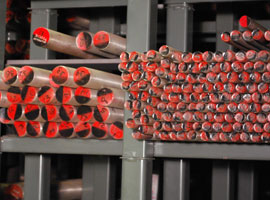 15-5 Stainless Steel is a martensitic, precipitation hardening, Chromium-Nickel-Copper Stainless Steel. The Stainless 15-5 alloy combines high strength, transverse toughness and ductility, hardness capability and corrosion resistance compared with 304 stainless.
The general level of corrosion resistance is best in the fully hardened condition and decreases slightly as the aging temperature is increased. 15-5 Stainless may also be used in the solution treated condition or heat-treated to obtain a wide variety of properties.
This alloy is used in aerospace, aircraft components, fabricated parts in high- pressure corrosive environments including valves, shafts, fasteners, fittings, and gears.

Get a quote for Stainless Steel 15-5
As part of the Wieland Group since 2018, Wieland Diversified will be able to continue to provide its customers with the quality and service they have come to expect. Learn more at Wieland.com
Wieland Diversified
49 Main Street
PO Box 65
Monson, MA 01057
p (800) 628-3035
p (413) 267-5101
f  (413) 267-3151