Nickel Alloy 500
Specs: QQ-N-286G
UNS# NO5500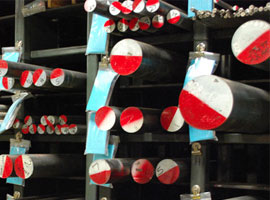 Nickel 500 (or Nickel K 500) achieves increased strength and hardness while maintaining the corrosion resistance exemplified by Nickel 400 by adding Aluminum and Titanium and tightly controlling the thermal processing. This thermal processing, often referred to as 'aging' or 'age-hardening', forms microscopic substructures within the material that is absent in many other Nickel grades. Applications include those that combine needs for exceptional corrosion resistance found in Nickel alloys with strength requirements that exceed those of Nickel 400 & 405.
Nickel 500 has approximately 3 times the yield strength and double the tensile strength when compared with Nickel 400.
Nickel K500 is a nickel-based copper alloy (63% Ni, 33% Cu) with additions of aluminum and titanium, which enables the alloy to be precipitation hardened.
This alloy has similar corrosion resistance to Nickel 400 but has the added advantage of much higher mechanical strength and hardness while maintaining good ductility and impact strength.
The increased strength comes from the fine precipitation of Ni3 (TiAl) particles throughout the solid solution substructure, during the aging part of the heat treatment process.
The alloy has the added advantage of low magnetic permeability properties down to low temperatures -150ºF (-101ºc) which makes it a valuable alloy for the application of instruments working at sub-zero temperatures.
Its resistance to stress corrosion cracking gives this alloy a wide range of potential applications in chemical and salt-water environments.
Nickel K500 has high fatigue strength in seawater and is resistant to impingement attack, which makes it ideal for propellers, shafts, and fasteners.
The alloy can be used in non-oxidizing chloride solutions and is resistant to de-aerated hydrochloric and hydrofluoric acids.
It is not recommended in oxidizing acids such as nitric and ammonia containing systems, due to the copper content of the alloy.
Available shapes –  round

Oil and Gas
Pump Shafts
Valve Stems and Drill Collars
Safety Lifts
Sensors and Other Electrical Components
Chemical Processing
Processing Involving Organic Acids
Caustic Soda and Dry Chlorine
Production of Chlorinated Plastics
Brine Heaters and Evaporator Bodies in Salt Plants
General Engineering and Production
Scrapper Blades for Pulp in Paper Production
Fasteners
Marine
Propellers and Shafts
Gyroscopes
Fasteners
Get a quote for Nickel Alloy 500
Specifications
Nickel 500 Specifications
International
Standards
Material
Designation
Tube & Pipe
Seamless
Sheet & Plate
Strip
Rod & Bar
Wire
Forgings
USA
ASTM
UNS
N05500
 
 
 
ASTM B 865
 
 
ASME
 
 
 
 
ASME SB 865
 
 
AMS
 
 
 
 
AMS 4676
 
AMS 4676
QQ-N
 
 
QQ-N-286
 
 
 
QQ- N- 286
Germany
Din
W-Nr 2.4375
17743
17751
17750
17752
17753
17754
UK
BS
NA18
3074
3072
3073
3076
3075
 
ISO
NiCu30Al
6207
6208
6208
9723
9724
9725
Mechanical Properties
Mechanical Properties of Nickel 500
Product Form
Condition
UTS
N/mm²    Ksi
0.2% Yield
N/mm²       Ksi
Elong
%
Hardness
HRB
Rod & Bar
Hot finished aged
960-1310    140-190
690-1034   100-150
20-30
265-365
Strip
Annealed & Aged
896-1172    130-170
620-827    90-120
15-25
24min HRC
Plate
Hot finished aged
960-1241    140-180
690-980    100-135
20-30
265-337
Tube and Pipe
Seamless
Cold drawn
Annealed aged
896-1241    130-180
586-827    85-120
15-30
24-36HRC
Physical Properties
Physical Properties of Nickel 500
| Physical Properties | Imperial Units | Metric Units |
| --- | --- | --- |
| Density | 0.305lb/in³ | 8.44g/cm³ |
| Melting Range | 2400-2460ºF | 1315-1350ºc |
| Mean Liner Expansion 0-200ºc |   | 14.9μm/m.ºc |
| Mean Liner Expansion 0-400 ºF | 0.0083in/in/ ºF x10³ |   |
| Specific Heat | 0.07Btu/lb/ ºF | 297J/kg ºc |
| Poisson's Ratio | 0.32 |   |
| Magnetic Permeability | 1.0018 |   |
| Thermal Conductivity | 86Btu-in/hr/ft²/ ºF | 12.3W/m. ºc |
| Electrical Resistivity | 370ohm-circ mil/ft | 0.615μΩ.m |
| Modulus of Elasticity 10³ |   |   |
| Tension | 26ksi | 179N/mm² |
| Torsion | 9.5ksi | 65N/mm² |
While the data is believed to be accurate, Diversified Metals, Inc. makes no representation or warranty of any kind (expressed or implied) and assumes no responsibility with respect to the accuracy and values shown above; this information should only be used as a guide.
As part of the Wieland Group since 2018, Wieland Diversified will be able to continue to provide its customers with the quality and service they have come to expect. Learn more at Wieland.com
Wieland Diversified
49 Main Street
PO Box 65
Monson, MA 01057
p (800) 628-3035
p (413) 267-5101
f  (413) 267-3151