Bronze CDA 90300
Specs: ASTM-B-505, ASTM-B-824, QQ-C-390
UNS# C90300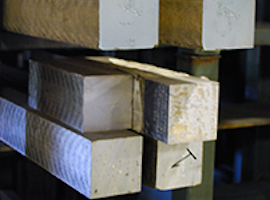 Tin Bronze C90300 (Bronze CDA 90300) is an alloy offering good corrosion resistance and wear resistance with moderate machinability. Bronze 90300 provides high thermal conductivity, excellent ductility, and toughness, making it suitable for a wide variety of uses in aerospace, marine defense, and commercial industry.
This cast bronze material is often found in landing gear bushings, pumps, valves, bearings, gears, gear blanks, and many other industrial applications.
Tin Bronze C90300 (CuSn8Zn4) is a tin bronze with the addition of 8% tin and 4% zinc, commonly known as Navy G.
The tin increases the strength of the alloy and gives good corrosion resistance in marine environments and zinc is added to act as a deoxidant and assist with pressure tightness.
C90300 offers a combination of engineering properties, such as high strength, excellent fatigue, good bearing properties, coupled with corrosion resistance.
It has excellent bearing properties with a low coefficient of friction and high wear resistance; it can be used under high loads with low-speed applications. Bearings need good alignment of mating parts and adequate lubrication.
C90300 can be joined by soldering, but brazing must be preformed so as to avoid strain and cooled slowly to avoid problems with hot shortness.
The alloy has a machinability rating of 30% compared with free machining brass at 100%. 
Available shapes –  round and square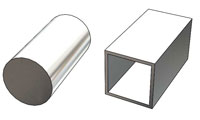 Worm Wheels
Bearings and Bushes
Pump Impellers
Valve Components
Seal Rings
Steam Fittings
Gears
Marine Fittings
Trunion Bearings
Potable Water Applications
Wrist Pin Bushings
Rolling Mill Bearings
Bridge Bearings
Get a quote for Bronze CDA 90300
Specifications
Specifications of Bronze CDA 90300
International
Standards
Material
Designation
Rod, Bar
& Profile
USA
ASTM
UNS C90300
Navy G Bronze
ASTM B 505
ASTM B 271
SAE
 
SAE J463
SAE J461
SAE 620
Federal
 
MIL C 11866
QQ B 390 Type 2 & 3
Mechanical Properties
Mechanical Properties of Bronze CDA 90300
Product Form
Condition
Size
Imperial Metric
UTS
Ksi    N/mm²
0.5% Yield
Ksi    N/mm²
Elong
%
Rod & Bar
Tube
Continuous Cast
N/A
44-51   303-350
22-23   152-160
18-25
 
Centrifugal Cast
N/A
44-49   303-340
22-23   152-160
30-35
Physical Properties
Physical Properties of Bronze CDA 90300
| Physical Properties | Imperial Units | Metric Units |
| --- | --- | --- |
| Density | 0.318lb/in³ | 8.70g/cm³ |
| Melting Range | 1570-1830ºF | 854-1000ºc |
| Mean Liner Expansion 20-300ºc |   | 0.018 ºc x10-³ |
| Mean Liner Expansion 68-572 ºF | 0.001 ºF x10-³ |   |
| Specific Heat | 0.0908Btu/lb/ ºF @68ºF | 377J/kg ºK @20 ºc |
| Thermal Conductivity | 43.2Btuft² /hr-ft ºF @68ºF | 69W/m. ºK |
| Electrical Conductivity | 20% IACS @68ºF | 0.075MS/cm @20 ºc |
| Magnetic Permeability | <1.01 |   |
| Electrical Resistivity | 4.53µ_in | 14.5μΩcm |
| Modulus of Elasticity 10³ |   |   |
| Tension | 14ksi | 103N/mm² |
While the data is believed to be accurate, Wieland Diversified makes no representation or warranty of any kind (expressed or implied) and assumes no responsibility with respect to the accuracy and values shown above; this information should only be used as a guide.
As part of the Wieland Group since 2018, Wieland Diversified will be able to continue to provide its customers with the quality and service they have come to expect. Learn more at Wieland.com
Wieland Diversified
49 Main Street
PO Box 65
Monson, MA 01057
p (800) 628-3035
p (413) 267-5101
f  (413) 267-3151