HY 80 Steel
Specs: MIL-S-21952, T9074-BD-GIB-010/0300
UNS#: K31820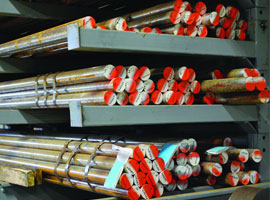 HY 80 is a high yield steel with a minimum yield strength of 80 ksi. While many steels offer high yield strength, HY 80 also offers exceptionally high impact strength as well. This combination makes HY 80 unique among steels. This material is used extensively in marine defense and petrochemical applications.
Wieland Diversified is the largest stocking distributor of HY 80 and HY 100 in North America; stocking a full line of round stock, while also offering gun-drilled tubing.
Certified to the MIL-S-21952 C/D and T9074-BD-GIB-010/0300.
HY is also available in ID/OD Tubing up to 22′ length.
Heat Analysis of HY 80
 HY 80 is a high strength low alloy martensitic steel containing small additions of chromium and nickel to help with corrosion resistance and is supplied in the Type B condition bright finish.
Owing to the rigorous requirements of the end application, all material is electric arc melted and vacuumed degassed with argon. All bar stock is ultrasonically tested to MIL STD 271,(NAVSEA T9074-AS-GIB-010/271) and has full Level I Subsea traceability
The alloy was originally designed for use in naval applications where high strength, high toughness and impact strength is required.
HY80 was first used by the US, UK and Australian Navy for the construction of submarine hulls where high strength and toughness was necessary to withstand water pressure at depth, but the alloy had also to exhibit excellent fabrication properties to allow the welding of complex structures.
The alloy has since found wider applications in the construction of pressure vessels, armor plating, the petrochemical industry and any high integrity application requiring added strength and rigorous testing requirements. 
Welding HY 80
Weldments of HY-80 are noted for good ductility, notch toughness and strength. It is recommended to weld using the metal-arc process with low hydrogen electrodes of Type E-10018 or E-11018. It is important to use approved weld procedures, so that the correct heat input per inch of weld bead is introduced, which would otherwise cause degradation of notch toughness.
Electrodes should be warmed before use to drive off any moisture to avoid hydrogen pick-up in the weld. Preheating is not required, except for very heavy section thickness welds or heavily constrained welds. Post-heating is not required but a stress relief anneal, after welding of sections of 1-1/2″ thick or greater, is desirable. However the alloy may be used in the as-welded condition.
 Tubing
High-pressure tubing can be made from HY 100 and HY 80 bars up to 30 feet in length. Tubes can be welded together to achieve longer lengths. The material's superior combination of ductility and fracture toughness makes it a great choice for pressures as high as 14,000 PSIG operating pressure or more depending on wall thickness. The tubes have been tested up to 21,000 PSGI.
Typical operating temperatures are 500o F to -20o F. The tubes can be bent up to 180 degrees with a maximum allowable thinning of 10% and flattening of 8% depending on tube OD and wall thickness and will maintain their physical properties. ID surface finishes of 64 micro or greater can be achieved. Straightness tolerances of .015″ per foot can be maintained. Bars can be ultrasonically tested in immersion and/or Mag Particle tested to ensure integrity after drilling.
Available shapes –  round

Pressure vessels
Submarine construction
Naval Craft construction
Heavy construction equipment
Armor plate for vehicles
Bank trucks
Guard Booths and barriers
Storage tanks for liquefied hydrocarbon vapors
Petrochemical
Get a quote for HY 80 Steel
Specifications
Specifications of HY 80 Steel
International
Standards
Material
Designation
Tube & Pipe
Seamless
Sheet & Plate
Rod & Bar
Forgings
Stampings
USA
Military
UNS K31820
 
MIL-S-16216 Rev K
MIL-S-24645 Rev A
MIL-S-24371 Rev B
MIL-S- 21952 Rev C & D
MIL-S-22664 Rev B
MIL-S -24512
MIL-S-23009 Rev C
Naval
 
 
 
EB 3719 Rev C
EB 2678 Rev H
EB 3132 Rev D
T9074-BD-GIB-010/0300
T9074-BD-GIB-010/271
 
ASTM
 
 
 
A543 Grade B&C
 
United Kingdom
Military
 
 
DEF STAN 02-736
Part 1
DEF STAN 02-736
Part 4
DEF STAN 02-736
Part 2
Mechanical Properties
Mechanical Properties of HY 80 Steel
| Ultimate Tensile Strength* | 0.2% Yield Strength | Elong in 2″ (Min) | Reduction of Area (Min) | Hardness |
| --- | --- | --- | --- | --- |
| Ksi N/mm² | Ksi N/mm² | % | % | BHN |
| 100-120 690-827 | 80-99.5 552-686 | 20 (L) 18 (T) | 55 (L) 50 (T) | 230-290 |
Impact Properties
Impact Properties of HY 80 Steel
| Test Temperature | Charpy V-notch Longitudinal | Charpy V-notch Transverse** |
| --- | --- | --- |
| °F °c | ft lbs Joules | ft lbs Joules |
| -120 -84 | 50 68 | 50 68 |
| 0 -18 | 70 95 | 60 81 |
**Transverse properties only required for 4″ (100mm) dia or greater
The properties shown below are for guidance only and are not intended for specification purposes.
Physical Properties
Physical Properties of HY 80 Steel
| Physical Properties | Imperial Units | Metric Units |
| --- | --- | --- |
| Density | 0.28 lb/in³ | 7.83 /cm³ |
| Melting Range | 2640-2750ºF | 1450-1510ºc |
| Mean Liner Expansion 0-200ºc |   | 18_m/m.ºc |
| Mean Liner Expansion 0-400 ºF | 0.010 in/in/ ºF x10³ |   |
| Specific Heat | 0.11Btu/lb/ ºF | 460J/kg ºc |
| Poisson€s ratio | 0.28 | 0.28 |
| Thermal Conductivity | 48.18Btu-in/sec/ft²/ ºF | 25W/m. ºk |
| Modulus of Elasticity 10³ | 29ksi | 200 N/mm² |
| Shear Modulus 10³ | 11.2ksi | 77 N/mm² |
The data is believed to be accurate but Diversified Metals Inc makes no representation or warranty of any kind (expressed or implied) and assumes no responsibility with respect to its accuracy and values should only be used as a guide.
As part of the Wieland Group since 2018, Wieland Diversified will be able to continue to provide its customers with the quality and service they have come to expect. Learn more at Wieland.com
Wieland Diversified
49 Main Street
PO Box 65
Monson, MA 01057
p (800) 628-3035
p (413) 267-5101
f  (413) 267-3151